Easy-Mount Nameplate Holders for Office Doors and Walls
Mount the holder with screws and slide in standard nameplates!
High-Quality * USA Made * Fast Shipping * Affordable Pricing * Quantity Discounts
Vibrantly-Colored Office Nameplate Holders
New! Office nameplates in an eye-catching, rainbow of color.
Don't settle for traditional, boring gold or silver. Go bold with unique colors.
Durable metal nameplate holders are powder-coated with vibrant color to make a statement in your workplace.
Quantity discounts on 6+ holders.
Eye-Catching Color!
Royal Blue
Red Pepper
Orange Peel
Bright White
Shamrock Green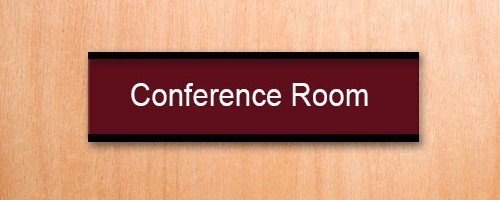 Great for Employee Nameplates or Signs Around any Workplace.
For nameplates 8″ or 10″ wide and 1″ or 2″ tall.
Heavy-duty, powder-coated aluminum in 3 colors.
Easily mount to doors or walls.
Customize Online
Easily customize nameplates and name badges with our online customizer. Upload logos, select fonts, change colors and more.
Personalized nameplates are a perfect match to our nameplate holders.
Engraved or color-printed metal and plastic nameplates.
Affordable quantity discounts and easy ordering.
Easily slide over any cubicle wall.
Many colors available – choose a different color for the nameplate holder and base for a completely custom look!
Fits standard-size nameplates.