NEW!
Unique, Executive Name Plate Holders with Extra Flair and Flexibility.
Executive name plate holders with a sleek, modern design add a polished, professional flair to the walls or doors in any office, boardroom, conference room and more.
One side has a thick border, and the other has a thin border, which can be flipped either way for the ultimate in versatility and office design.
High-Quality ◊ Made in the USA ◊ Fast Shipping ◊ Affordable Pricing ◊ Quantity Discounts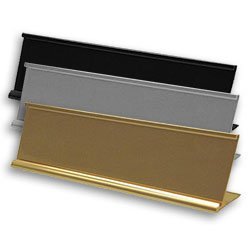 Office Nameplate Holders
Nameplate Holders for Doors, Walls & Desks
Many sizes and colors available.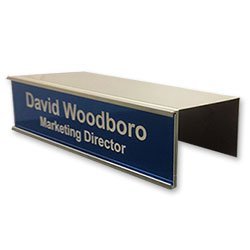 Cubicle Name Plate Holders
Easily slides over any cubicle wall.
Many sizes, colors and options.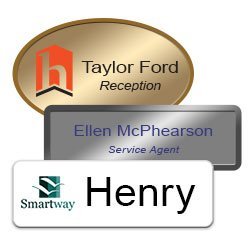 Employee Name Badges
Professional Name Badges for Employees and More
Magnetic or pin-on or clip styles.
WE'RE DEDICATED TO OUR CUSTOMERS
Our customer care team wants
to help you get what you need
We'll go above and beyond to
help you with your projects
 Office Hours:
Monday – Thursday: 8am – 5pm ET
Friday: 8am – 1pm ET