Cubicle Name Plates Slide Over Any Wall for a Perfect Fit
Over-the-Cube™ holders and more in many colors and options!
High-Quality  *  USA Made  *  Fast Shipping  *  Affordable Pricing  *  Quantity Discounts
Spring Sale – Save 10% on Most Over-the-Cube Cubicle Nameplate Holders until April 30, 2018! * Use code APR10 at checkout 
* Offers not valid on prior purchases and cannot be combined with other discounts, markdowns, or offers. Expires April 30, 2018.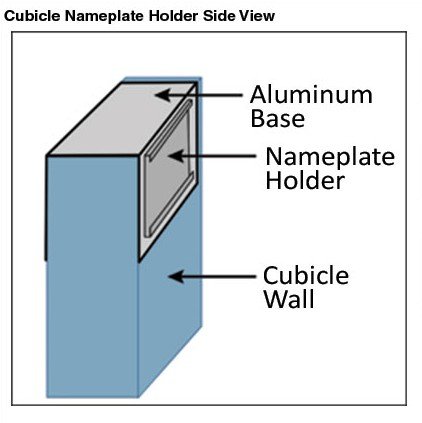 Never Damage Cubicle Walls!
No Pins, Screws or Adhesive Needed
Slide-over any cubicle wall
Easy to move and change, never damaging the fabric.
Heavy-duty, powder-coated aluminum
Scratch resistant, coated metal last for years.
Namplate holders for personalized nameplates
8″ or 10″ wide and 1″ or 2″ tall.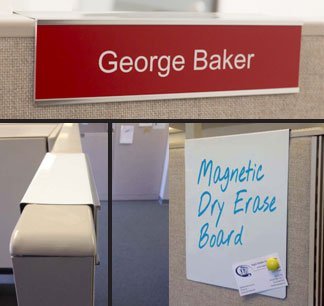 Customize Online
Easily customize nameplates and name badges with our online customizer. Upload logos, select fonts, change colors and more.
Single, double and triple nameplate holders are great for employee name tags or office signs.
Heavy-duty aluminum for lasting durability.
Dozens of color combinations for the nameplate holder and base.
Custom-printed cubicle signs with names, logos, graphics and more.
Easily slide over any cubicle wall, never damaging it.
4 Sizes perfect for employee name tags or signs around the office.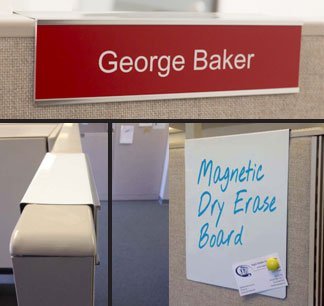 A combination nameplate holder and whiteboard for cubicles.
One side has a changeable name plate holder for the outside of the cubicle.
The other side is a full whiteboard – choose 8 x 10 or 11 x 17 size.
Easily slide this whiteboard over any cubicle wall.
Erases cleanly and is also magnetic.
3 Sizes available: 8 x 10, 11 x 17 and 18 x 24.
Printed in full-color on metal.
Slides over the top of any glass cubicle wall.
8″ or 10″ sizes available.
A holder for personalized nameplates – slide in and out easily.
Slides over the top of any glass cubicle wall.
8″ or 10″ sizes available.