Finally! Cubicle name tags and signs that look professional AND are easy to move, custom made for your office.
These new name plates for cubicles were created by NapTags after hearing so many customers comment about how they don't like using pins to stick signs on cubicle walls. It's hard to make them sit level, which makes them look not so professional.
If you regularly move cubicle name tags throughout the office, this new design is perfect! They are super simple to use, and look really nice.
The name plate just slides in the holder, and the holder slides over the top of the cubicle wall. No fasteners required!!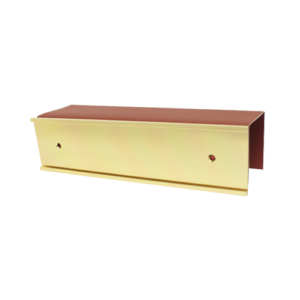 The nameplate holder itself comes in your choice of silver, gold or black. That holder is mounted to a silver aluminum base that slides over the top of the cubicle wall. 2"x 8" or 2"x 10" holders are available, with different 5 sizes for the base so it fits snugly over the wall.
Then, add custom name plates that are printed in full color or engraved. We can even print your company logo on them! Choose plastic, brass or aluminum name plates with many finishes and options.
Get pricing and more information about changeable cubicle name plates on NapNameplates >