Description
Glass Cubicle Name Plate Holders
ITEM PG397
Unique Over the Cube™ Glass Cubicle Name Plate Holders are ideal for popular glass-top cubicle walls and slip easily over the top of the glass.
They move easily without causing damage like pins or adhesives. Glass Cubicle Changeable Name Plate Frames are a step above traditional name plate holders.
The ultimate in cubicle-city mobility! No adhesive needed.
Better than traditional cubicle name plate holders, these name plate holders always look great and never damage your walls.
Request a Quote or easily order online.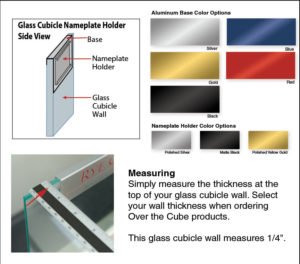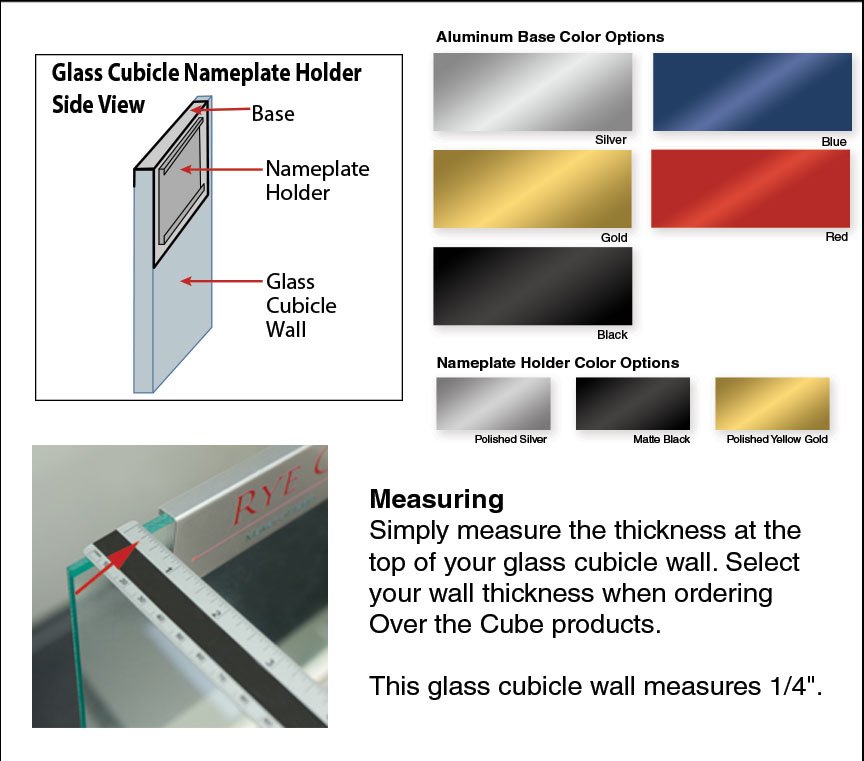 Glass cubicle walls vary in thickness.
Please measure the width of your cubicle wall and select the correct thickness when ordering.
NOTE: Call to order if your cubicle thickness is not listed.
Minimum cubicle wall thickness is 1/4″.
All Over the Cube products are made-to-order,
custom sized, therefore, are NOT RETURNABLE.
Bulk Pricing for 8″ x 2″ Frames
(Add $1.00 each for 10″ x 2″)
1-5 Frames: $18.50 each
6-9 Frames: $16.75 each
10-24 Frames: $15.75 each
25-49 Frames: $14.75 each
50+ Frames: $12.75 each
(Price does NOT include personalized name plate)
Order Customized Name Plates
Cubicle name plate frames are a strong metal alloy, powder-coated for long-lasting durability.
Customized office name plates easily slide into the frame for a professional-looking way to display employee names on cubicles.
No adhesive, no pins, no screws are needed to hang the frame on a cubicle! Name plates are not included.
These frames are also great for office signs and other messages to your guests.
Hang near reception desks, in hallways, in the lobby or anywhere you need simple, changeable signs.

Contact Nap Nameplates for custom orders and special requests.
We're happy to help you! 800-451-3330